What to consider when choosing a cloud provider
In today's digital age, each and every business is either in the phase of transiting to the cloud or is actively planning to move to the cloud very soon. This large-scale adoption is also due to the strong boost from the Covid-19 pandemic, where businesses have understood the importance of cloud infrastructure and its ease and flexibility.
But in the entire process of transiting from traditional in-house infrastructure to off-site cloud infrastructure, the primary issue is choosing the right cloud service provider (CSP). Thus, in this article, we have covered everything from how to choose a cloud provider to what to look for in cloud security. This will not only help you find your ideal CSP but also assist you in starting the journey of the cloud transition.
So without wasting much time, let's get started.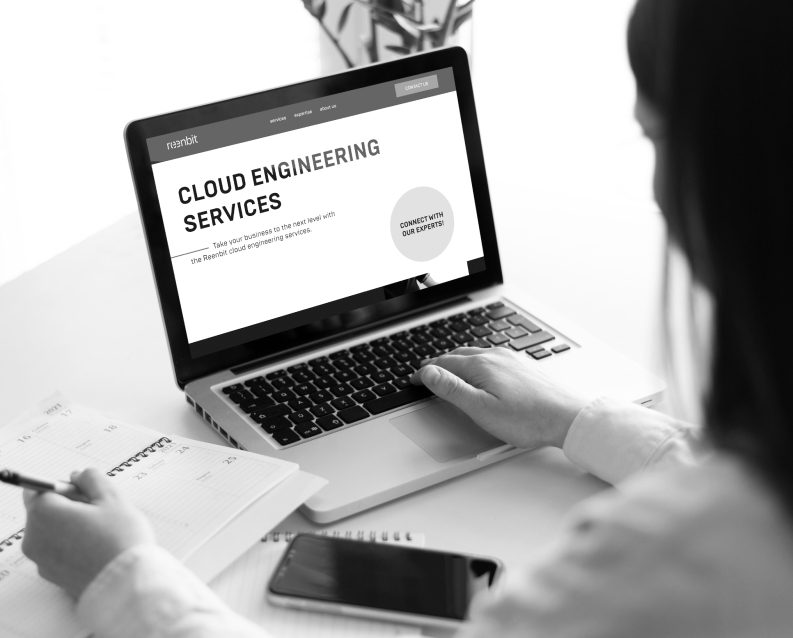 Critical questions you should ask when choosing a cloud computing provider
Many questions will arise in your mind when choosing a cloud provider. Thus, we have covered some of the most prominent ones that you shouldn't miss.
HOW WILL MY BUSINESS BE ABLE TO ACCESS THE CLOUD?
If you are already aware of which type of cloud service you want to use, then it's best to confirm with your potential cloud provider if they are providing that service or not.
In case you are confused about which type of cloud service is best suitable for you, then you can ask the provider about the same. Your provider should have that expertise to guide you in the right direction and help you choose the right cloud service that suits your requirements and needs. Reenbit company can be handy here since we provide a wide range of cloud consulting services, such as cloud architecture design, cloud roadmap adoption, POC development, and pretty much everything else cloud-related to ensure the successful development of our customer's businesses.
HOW WILL MY BUSINESS BE ABLE TO ACCESS THE CLOUD?
It is crucial for you to understand how you will be able to access your data. As flexibility and ease of accessibility are two major benefits of cloud computing, thus it is essential to keep a check on them.
To ensure safety, you should also discuss the ease of scalability in case you need to use it as you plan to scale further.
HOW DO YOU HANDLE REGULATORY COMPLIANCE?
Different countries have different rules and regulations in place, which also keep changing from time to time. Thus, your cloud provider should be someone who is an expert in this area so that you don't end up violating any laws.
HOW SECURE IS YOUR CLOUD COMPUTING?
Security should be your top priority. Thus, you must ensure that your provider has proper security measures in place. Some of the most commonly used security measures by cloud providers include:
Data encryption
Multi-Factor Authentication
Firewalls
Antivirus Detection
WHERE WILL MY DATA BE STORED?
As cloud computing involves storing your data online in off-site locations thus, you must ensure that your provider follows relevant measures and compliance. Various certifications can help you find that out, like SOC Type 2 and SSAE 16, which assure that providers' data, products, and systems comply with the industry security standards.
WHAT IS YOUR PRICING STRUCTURE?
Different cloud service providers follow different pricing structures. Some of them may charge annually, some may charge quarterly, while others may charge hourly. So it is better to ask them upfront about their charging structure and confirm the add-on charges in case you plan to scale shortly. Here in Reenbit, we have successful cases of optimizing cloud costs drastically – explore an example in our case study on fruitful partnership with SensoScientific, a top-tier US-based supplier of IoT solutions, compliance automation, and environmental measurement software and hardware.
WHAT CUSTOMER SUPPORT SERVICES DO YOU OFFER?
Cloud computing doesn't store your data on-site. Thus, you must know about the available support services your cloud provider can provide you in case things go out of hand.
Some of the standard support services provided by cloud providers are as follows:
24*7 Technical Support
Live Chat Support
Online Support on Email, Phone, and Desktop

Factors to analyze when choosing a cloud service provider
From the above section, we are sure that you might have successfully narrowed down your list of potential cloud service providers but still have a few left in it. And now, you are struggling to choose your ideal cloud service provider. So don't worry; in this section, we will go through some of the essential factors that you should consider while choosing your cloud service provider.
COST
Cost is one of the most significant factors that play a vital role in deciding which cloud service provider you should go with. However, you should always remember that the costliest doesn't mean the best and vice versa.
Cloud service providers use various pricing models like:
Pay-as-you-go
High Volume Discounts
Price Per Reserved Instance
COMPANY EXPERIENCE AND PROFILE
You should take some time out and do surface-level research on the cloud service provider you are planning to choose. During your research, you can check out the following things:
Does the provider have a sound financial background?
Are there any legal cases against the provider?
Are there any negative reviews about the provider on social media or the internet?
What is the reputation of the provider in the market?
Does your industry align with the experience of the provider?
TYPE OF CLOUD
There are three types of clouds which you can select from:

Each of these types has its own advantages and drawbacks associated with them. Thus, you will need to make sure that you choose the right type based on how your business requirements.
SECURITY AND RELIABILITY
There is no chance that you can take security measures lightly. You must know what types of security services your cloud service provider offers for free and what the charges are for paid ones. In addition to that, you should also check for features like:
Authentication
Authorization
Access Control
Identity Management
In Reenbit, we prefer working with Azure since it grants top-level protection for our clients' projects. Microsoft is well-known for providing the most contemporary security practices. Azure was created with the Security Development Lifecycle in mind, an industry-leading assurance process. Azure also offers more than 90 compliance services and is the cloud of choice for US government agencies.
BUSINESS CONTINUITY STANDARDS
Business Continuity and Disaster Recovery (BCDR) is one of the most vital services you should look for when choosing a cloud service provider. BCDR indicates the cloud service provider's ability to recover the data in case of unforeseeable events and mitigate the associated risks.
Common solutions used by cloud service providers for BCDR are:
Multi-level redundancy
Replication of data at various other points
ARCHITECTURE
It is essential to consider how the architecture will be incorporated into your current workflows and future ones. For example, if your organization is highly involved in using the products and services from Microsoft, then it will be better if you go with Microsoft Azure. And in a similar case, if your organization is heavily using Amazon or Google services, then you should go with Amazon AWS or Google Cloud, respectively.

DEPLOYMENT AND MIGRATION SUPPORT
Whether you are using an in-house infrastructure or transitioning from a cloud service provider to a new one, it is necessary to check if your cloud service provider offers migration and deployment support. If a company doesn't support it, you should avoid choosing it. Because then you will need to deploy your own in-house team for the transition, which might be challenging and inconvenient.
BUSINESS COMPATIBILITY
As an organization, you should also check if your technical, business and operational goals align with the cloud service provider you are planning to go with. If the goals don't align, then it isn't advisable for you to still go with the same cloud service provider. As you will be closely working with cloud infrastructure, it is necessary to keep business compatibility in mind.
BACKUP
Backup is a vital service, and most cloud service providers give this facility. But the main issue that arises is how easy it is to access the backup data and for how long it is stored.
You need to discuss the same with your cloud service provider so that you are aware of the default-free backup service and how much you will need to pay for customized backup plans.
TOOLS AND FEATURES
As each and every cloud service provider has different services and features, you need to choose wisely as per your current and future plans. According to the report published by Gartner, Microsoft Azure is leading the market in terms of the wide variety of services it provides to its clients.
COMPLIANCE
Along with the above factors, you must ensure that your cloud service provider follows all the necessary compliance. Some of the most prominent ones are as follows:
HIPPA is inclined towards the healthcare sector, ensuring that the vendor safeguards patients' data sharing, processing, and transfers. And a business associate agreement is also signed by the vendor.
GDPR restricts organizations from transferring the data of EU citizens outside the country. Thus, data transfer and data processing are limited to EU data centers.
For the cloud service provider to be ISO compliant, the following certifications are necessary:
| | |
| --- | --- |
| For the protection of information security management systems | For the protection of Personally Identifiable Information (PII) in the public cloud |
Conclusion
With the skyrocketing demands of cloud computing, there is no doubt that more and more cloud service providers will be entering the space. And this will undoubtedly make it even harder for you to decide which one to go with. But to be honest, take this bold step and go through the hard work for a single time so that you can enjoy the benefits of the cloud in the upcoming months.
We at Reenbit use best practices at all product development stages, from PoC/MVP to scalable business growth. We are also a Microsoft-certified partner for Azure Cloud, which allows us to provide efficient services to our clients like reduced costs and time-to-market, manage complex environments, and use the complete power of Azure.
Still thinking about what to do or have any doubts in your mind? Don't worry. Just contact us, and our experts will provide you with the best possible solution.
FAQ
What is a cloud service provider?
A cloud platform, or cloud service provider (CSP), is a third-party company that offers cloud computing services to create public clouds, maintain private clouds, or deliver on-demand cloud services. Some of the most famous cloud service providers include Microsoft Azure, IBM Cloud, Amazon Web Services, and Google Cloud.
What is cloud computing?
Cloud computing is the distribution of computing services over the internet, i.e., "the cloud," which includes software, servers, databases, networking, software, intelligence, and analytics.
What is a cloud service?
Cloud services are broadly classified as services made available to businesses and consumers online on-demand. These services are created to offer quick, inexpensive access to resources and applications without the need for internal infrastructure or hardware.
Challenges of choosing a cloud service provider
Some of the critical challenges faced while choosing cloud service providers are as follows:
Low-End Technical Support
Poor Security
Lack of Performance
Hidden Charges