Interview with Reenbit CEO Igor Tabas
Recently, Goodfirms, a full-fledged research and review platform that helps software buyers and service seekers to opt for the best software or firm, has interviewed our CEO and co-founder, Igor Tabas. In this talk, Igor shared the history behind the Reenbit foundation, information about the service portfolio, and plans for the next ten years.
History
Reenbit was founded by my friends and me back in 2018. We were united by profound technical expertise and an unfortunate background of facing insufficient work models. So we decided to run a business that we would be able to feel proud of and empower our mastery to the fullest. The core vision was to create a company with a flat organizational structure, where decisions are made in a democratic way, omitting any boogiemen of micromanagement. We aimed to build a company where people have opportunities to bring value and are recognized and appreciated by others. And we succeeded. Our very first client launched quickly after the foundation, and we started a sparkling ongoing partnership. Since then, Reenbit has prosperously launched 34 clients. As a result, we have 57 delivered projects and 12 ongoing.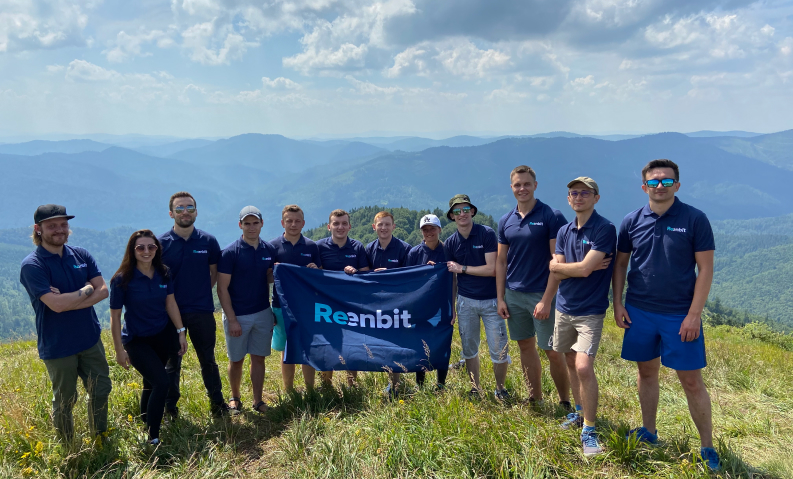 Reenbit's business model
We don't really care too much about the models but predominantly care about our customers. What does it take to build a truly outstanding product? Not only technical expertise but a deep understanding of business targets. That's why we implement a business-oriented approach for each of our customers. We try to deliver superior tech expertise in achieving the customer's business goals. In each action we take, we ask – will our deeds bring us closer to the client's success? This way, we are not blind executors but instead become trustful partners for companies. And this partnership means that we are ready to work within any model that suits our client's needs the best. A dedicated team approach, staff augmentation, strategic technical partnership – whatever fits our customer – also works for us.
Winning the competition
How do we stand out in the competition? First of all – our profound tech expertise in software development and cloud engineering. We don't only have genuine experts on our team, but also we're not afraid of complex tasks and challenges. To be honest, working with complicated projects is our passion. Secondly, we can handle and set up the SDLC from idea validation to maintenance and customer support, making us a perfect partner for customers looking either for full-cycle development or a single technical session. And last but not least is our soft skills side. We are accustomed to direct communication and fast decision-making. Mixing European values and agile-based approaches, we ensure that the work process is enjoyable for each party in the engineering process.
Predominant industries and repetitive customers
We try not to cater to specific industries but focus more on projects within our technical stack since it's our main rational advantage in the market. Still, we see within the statistics that projects from healthcare, IT, and entertainment domains are in the majority of our leading clients. Regarding repetitive clients, our Sales department focuses on delivering the highest customer satisfaction, which inevitably leads to repeatedly working with the same people. Recently we've even launched a referral program for customers as well.
Expertise portfolio
As I've already mentioned, our primary specialization lies within everything related to software development and cloud engineering. We work a lot with web, SaaS, and full-stack development. Cloud services are also quite popular, including consulting, cloud-native and hybrid development, migration, integration, modernization, and re-engineering. Considering current safety regulations, we also offer cloud security consulting. We find that POC, MVP, and prototype improvement services are favored within startups. In addition, at the beginning of 2022, we introduced a new service – discovery. We thought our new clients would be primarily interested in it, but it appeals to our long-term clients as well.
Customer satisfaction rate
As 90% of all our projects turned into long-term cooperation, I assume we are doing our job great. For us, there is no kind of limit on customer satisfaction, as we are always willing to do more and to do better than yesterday. We don't sell engineers to our customers, we provide solutions for them. In order to succeed, we need to hear our customers first. That's why it's essential to pay attention to details, be transparent, and ask tons of questions to be on the same page with a customer from the beginning.
During the development and day-to-day communication, we want to build trustful relations with our customers and become real partners. But what is crucial is not to blindly do whatever customers want, but to explain each step and decision and show all pros and cons of that step by using our prior experience as a technology partner.
Customer support
Support is always a vital part of cooperation. Based on years of our experience, we believe that communication and response time are the main сomponents of efficient support from us. That's why we've built a solid management and communication model of support to be in touch with customers and shorten response time as much as possible.
Payment models
In that area, we are flexible because we are confident in the service we are providing. With each new customer, the main goal is to build trust between us. That's why we are open and flexible at the beginning to find the best option for both.
Budget requirements
There are many examples of successful startups starting from nothing and accomplishing so much nowadays. That's why we never put any kind of border. We are always open to any type of contact and opportunities. We are always willing to build something unique and be a part of it. Plus, the experience of cooperating with startups is precious. We evolve a comprehensive approach in such cases because each step is important. To make that step, we need to investigate the business and discover company goals as profoundly as possible.
Price range in 2022
The minimum range was 8k, and the maximum was 500k.
Plans
We don't have aggressive plans, but still, we want to grow. Here I'm talking more about quality than quantity. We'd love to welcome new long-term projects, recruit new team members that share our company values, and build an organization that would not only be profitable but also become a pleasant, fair, and popular workplace. In the near future, I see the foundation of design, Node.js, and QA departments and the expansion of our CSR activities.