How to Hire Developers for a Startup in 2023
Building the right team for your startup is like piecing together a puzzle. Each new hire should seamlessly fit, pushing your vision closer to reality. But mistakes in hiring? They can cost more than you might think.
According to the Harvard Business Review, a bad hire could cost you an additional 30% to 50% of that employee's annual pay. It's not just their salary — think training, lost productivity, and even the possibility of starting the hiring process all over again. For early-stage startups, the stakes are even higher; there's the risk of tarnishing your brand's name.
So, how do you get it right? This step-by-step guide will provide tips on how to hire developers for a startup. We'll break down the essentials of hiring developers for startups, from identifying key talents to drafting compelling job posts and mastering interviews.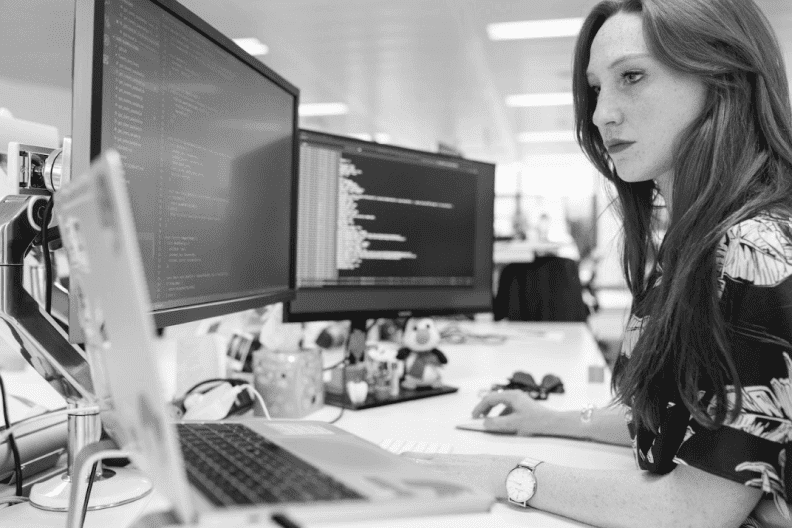 Challenges of Hiring Developers for a Startup
When operating a startup, some of the factors that make finding the right tech talents difficult include:
Limited Candidate Pool: The quest for the ideal developer often leads startups to a narrow pool of candidates . This limitation isn't just about numbers but also about the specific skill sets required. As startups push the boundaries of innovation, they often venture into niche areas of technology. These specialized domains demand rare and unique skills, making the hunt for the right candidate akin to finding a needle in a haystack.
Competition With Larger Companies: Established companies, with their deep pockets and brand recognition, often overshadow startups in the recruitment arena. In-house developers, especially the experienced ones, are naturally inclined towards organizations that offer stability and a proven track record. For a startup, this means going the extra mile to showcase its vision, potential, and the unique opportunities it offers. Building a brand reputation is a marathon, not a sprint, and startups need to be patient and persistent in their efforts.
Cultural Fit: Startups typically have a unique culture and work environment. Finding developers who not only have the technical skills but also align with the company's values and culture can be challenging. A mismatch can lead to decreased productivity and team cohesion.
For startups looking to overcome the complexities of hiring, turning to dedicated  IT services for startups can be a transformative solution. It not only addresses the talent pool shortage but also ensures access to affordable and highly skilled software developers any time. At Reenbit, we can help guide you through this journey.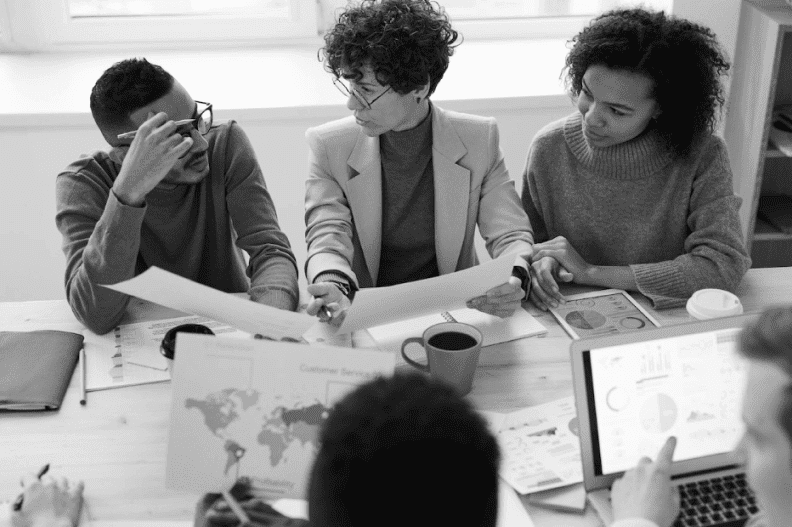 9 Steps to Hiring Developers for a Startup
Here are the steps to follow if you need to hire developers for a startup.
Step 1: Define Your Developer Hiring Strategy
Having a strategic developer hiring plan is crucial for startups. It simplifies the process of finding developers for startup businesses. Here is what to focus on when optimizing your hiring strategy:
Product Requirements
When launching a new product, start by detailing the essential features and functionalities. Afterward, determine the technologies that will be at the core of your product, such as the specific programming languages or database systems required. Finally, pinpoint the hard and soft skills required for your product's development.
Choosing the Platforms
Determine whether your application will be web-based, mobile-based, or both. This choice will determine whether your potential candidate will be an Android developer, an iOS developer, or someone good at cross-platform software.
Choosing the Right Development Stack
The development stack refers to the combination of programming languages, frameworks, and tools used to build your product. The most popular languages are:
Source: Stack Overflow
Selecting a development stack that aligns with your product's needs and the available skill pool is crucial. Factors such as scalability, performance, and ease of maintenance should guide your choice, ensuring a fitting development stack for your product requirements.
Step 2: Craft an Effective Job Description
Crafting an effective job description is crucial in attracting qualified developers to your startup. A well-written job description helps candidates understand the role, responsibilities, and expectations. Incorporate these three vital elements into your job description:
Write a Compelling Job Title
Craft a job title that is succinct, transparent, and enticing to potential candidates. It should accurately capture the essence of the role and its responsibilities. Also, avoid generic labels and focus on specific skills and experiences sought in a developer.
Outline Key Responsibilities and Project Scope
Clearly define the primary responsibilities and scope of projects for the developer role. Highlight the tasks and activities the developer will engage in and any specific prerequisites or qualifications essential for the role. This will help candidates understand what they can expect from the position and allow them to assess their suitability for the role.
Mention Company Values
Include information about your startup's company values and culture in the job description. This will help candidates understand the work environment and whether it aligns with their own values and goals.
Step 3: Determine and Agree on the Budget
Hiring programmers for startup ventures requires careful budget consideration. Analyze your financial resources and set a realistic budget for hiring developers. This will help you determine the number of developers you can afford and the experience level you are looking for. Make sure to factor in other expenses such as equipment, software licenses, and benefits.
If you're using software development services for startups — this is the ideal option for the non-tech founder — work with your tech partner to set and agree on a budget beforehand. This way, there are no surprises down the road.
Step 4: Choose a Country to Hire From
The next step is to choose a country to hire developers from. Consider the following options:
Poland
Renowned for its proficient workforce and robust educational system, Poland is a sought-after destination for developer recruitment. It boasts a conducive business environment and elevated English proficiency among developers.
Ukraine
Boasting a sizable number of highly skilled professional developers, about 250K software developers, and IT specialists as of 2022, Ukraine is a premier choice for startups seeking talent in Eastern Europe. With competitive rates, a robust technical education landscape, and a thriving tech community, Ukraine is one of the best places to augment your IT team.
Romania
Flourishing with a dynamic IT sector and a growing number of developers, Romania is another attractive option for hiring developers. Its economical cost of living makes it a favorable option for budget-conscious startups.
China
Home to a large tech industry and a vast developer pool, China offers a blend of technical prowess and cost-effectiveness. However, navigating linguistic and cultural disparities may be a problem.
India
A longstanding IT outsourcing hub, India boasts an extensive developer talent pool. It offers competitive rates and deep technological insight. However, communication and time zone differences may need to be managed effectively.
See the cost of application development in the countries mentioned compared to the USA.
Source for other countries: Arc Dev. Source for China: Teamed Up China.
Consider the specific requirements of your startup, such as language proficiency, cultural fit, time zone compatibility, and budget, when choosing a country to hire developers from. Research the local job market, evaluate the reputation of the country's developers, and take into account any legal and logistical challenges that may arise from hiring internationally.
Step 5: Explore Modern Recruitment Channels
To get the people you need for your startup, you can leverage modern recruitment channels to reach a wider pool of talented individuals. Here are effective strategies to consider.
Tapping Into Niche Job Boards and Developer Communities
Niche job boards and developer communities like GitHub and Crunchboard are hotspots for developers and recruiters to meet. By showcasing your job openings on these platforms, you can precisely target developers with specific skills and experience your startup demands. Active engagement within these communities also enables you to foster relationships and directly interact with potential candidates.
Partnering With Tech Recruiting Agencies and Freelancer Platforms
Tech recruiting agencies and freelancer platforms can provide access to an extensive network of skilled developers. These platforms streamline the hiring process, sometimes pre-evaluating candidates, conducting technical assessments, and verifying skills and experience. Partnering with outsourcing firms and platforms can save you valuable time and effort, allowing you to focus on other critical aspects of your startup.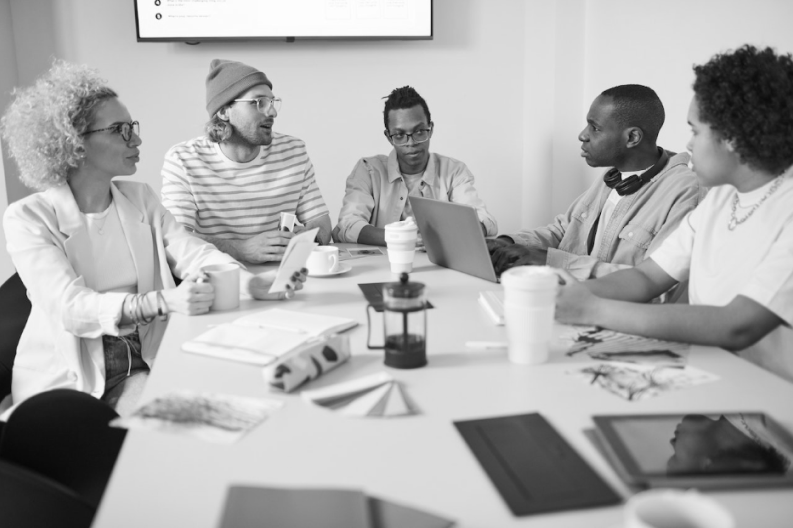 Step 6: Find Specialists
Let your organization handle the recruitment process if you have basic technical knowledge and a firm grasp of your software solution's tech stack and architecture. Otherwise, consider using technology partnership services or hire a tech advisor to help you make informed decisions. Their unbiased guidance can prove invaluable in this process.
Best Websites to Hire Developers for Your Startup in 2023
Here are some platforms you can use to hire developers for your startup.
Github
Github, well-known for enabling developers to collaborate on projects, share code, and showcase their work, is also a great platform to find a talented developer for your startup. You can search profiles, evaluate past projects, and gauge developers' skills. It is a comprehensive platform for connecting with developers who are passionate about their craft.
Wellfound
Formerly known as AngelList Talent, Wellfound connects startups, skilled developers, and angel investors. This platform works just like social media, providing detailed profiles, portfolios, and ratings, and a comprehensive overview of each developer's expertise.
Upwork
Upwork is a popular freelancing platform that links businesses with different types of developers and other freelancers. It boasts many developers specializing in different programming languages and frameworks. Upwork's user-friendly interface makes posting job descriptions and assessing proposals easy. Here, you can find app developer for startup ventures based on candidate's expertise, ratings, and client reviews.
Stack Overflow
Beyond serving as a question-and-answer website for programmers, Stack Overflow also doubles as a developer hunting ground. Its dedicated job board targets developers seeking new opportunities. Highly skilled developers frequent this platform, making it a rich resource to find experts aligned with your desired tech stack. Stack Overflow also provides enterprise solutions for tailored business development needs.
Toptal
Toptal is another platform where you can hire software developers for startup ventures. It employs a rigorous screening process to ensure that only the top 3% of developers make it to their platform. This means that you can expect high-caliber, experienced developers who can significantly impact your startup. Toptal costs range from around $2k to $3.2k per week for full-time developers.
Upstack
Upstack connects startups with talented freelance and full-time developers. This platform has more than 650 developers on its list and employs a strict hiring process to ensure that the developers it connects you with perfectly match your requirements. The platform also allows a 14-day free trial where you can work with the developers to determine if they have what you need for your project.
Step 7: Conduct Developer Interviews
When recruiting software developers for your startup, interviews are pivotal in determining a candidate's suitability. Your technical partner can undertake this task, or, if preferred, you can manage it yourself.
Before proceeding with the interview, lay the foundation with a well-structured plan. This entails defining the essential skills, qualifications, and attributes sought in a potential developer. Tailor this to your startup's culture, specifying traits like adaptability, entrepreneurial mindset, and alignment with a fast-paced environment.
Ask technical and skill-based questions: Assess the candidate's technical skills and ability to apply them practically. Ask role-relevant technical questions to rate their expertise. Find out their previous work to evaluate collaboration skills and adeptness at overcoming challenges.
Consider if the Candidate Would Fit Your Client's Startup Culture
Assessing the candidate's compatibility with your startup's culture is critical. Consider factors such as their passion for innovation, willingness to take risks, and ability to work in a dynamic and agile environment. Look for candidates who align with the company's mission, vision, and values.
Communication Skills Matter
Beyond technical expertise, effective communication is instrumental in a startup environment. Here's how to evaluate a candidate's communication abilities:
Verbal and written proficiency: Assess how effectively the candidate articulates ideas verbally and in writing. Robust verbal skills foster collaboration and problem-solving. Likewise, polished written skills are essential for clear documentation and effective teamwork.
Active listening: Evaluate the candidate's capacity for active listening and comprehension. This skill underscores how they understand project requirements, responsiveness to feedback, and good teamwork.
Interpersonal skills: Evaluate the candidate's interpersonal skills, such as their ability to build relationships, resolve conflicts, and work effectively with a diverse team of developers. Strong interpersonal skills enable developers to collaborate seamlessly with colleagues, stakeholders, and clients.
Step 8: Make the Offer and Start Onboarding
Once you've found the right candidate, the next step is to extend the offer and ensure a successful onboarding process. This involves negotiating salaries and terms of employment. Be clear and open about what's being offered to avoid any future misunderstandings.
It is crucial to have a well-structured onboarding process— information, resources, and training to help the new developer integrate into the team and kick-start their role effectively.
If you're adopting the dedicated team employment model, your tech partner can manage the entire process, leaving you free to focus on other critical business matters.
Step 9: Start the Job
Once onboarding is complete, it's time for the new developer to begin their role. This entails equipping them with tools and system access and introducing them to team members. If this recruitment is to augment your in-house IT team, introductions between both groups are made.
Setting clear expectations and goals for the new developers, along with offering ongoing support and feedback, is crucial for their success. Regular check-ins and performance evaluations further ensure their progress is on track and help address any challenges that arise.
Summary
As the demand for tech talents continues to outgrow supply, knowing how to hire programmers for a startup efficiently is crucial. However, it is important to note that the process can be challenging for most founders. That's where partnering with a proficient tech partner like Reenbit can help.
Need more than just a team for your startup? We offer comprehensive software development and cloud engineering services. From project inception to integration, our dedicated engineers will guide you through the process, leaving you free from the hassle of recruitment. Ready to elevate your development strategy? Reach out today to discuss how we can help you realize your startup's true potential.
Contact us.
FAQ
How much does it take to recruit developers?
Developer costs can vary based on factors like location, skills, and recruitment methods. Offshore options often prove more cost-effective than local hiring due to potentially lower labor costs. A software developer in Ukraine earns about $30 per hour. It is about $50 per hour in the USA.
How many developers do I need for my startup?
The number of developers you will need depends on your project's complexity, timeline, and team size. Start small with one or two developers, adjusting as the workload grows. Scaling up when needed ensures a streamlined expansion.
How hard is it to find developers for startup?
Finding developers for startup ventures can be tough due to fierce competition for tech talent. Overcoming this challenge will involve offering competitive salaries, which most startups cannot afford. This is why using offshore teams can be advantageous.
How long does IT take to hire a developer?
Hiring a developer varies in duration, influenced by stages like sourcing, interviews, and negotiation. Allow for a few weeks for thorough evaluation and sound decision-making in the recruitment process.