Tips to Build a Successful Startup: A Guide for Aspiring Entrepreneurs
Embarking on the journey of building a successful startup is always exciting for aspiring entrepreneurs. In today's fast-paced world, starting a business has become remarkably streamlined. However, the race for success meets the severe reality where "only 2 in 5 startups are profitable, and other startups will either break even or continue to lose money," according to Small Business Trends. At the same time, CB Insights claims that "the number one reason why startups fail (42% of cases) is due to misreading market demand."
To navigate the challenging entrepreneurship landscape and increase the chances of success, business owners must equip themselves with valuable insights and strategies. In this comprehensive guide, we present essential tips and expert advice on how to create a startup effectively and make it resilient. From defining a compelling vision and setting clear goals to establishing a strong network and following legal requirements, this guide provides the foundation for turning a brilliant idea into a thriving business venture.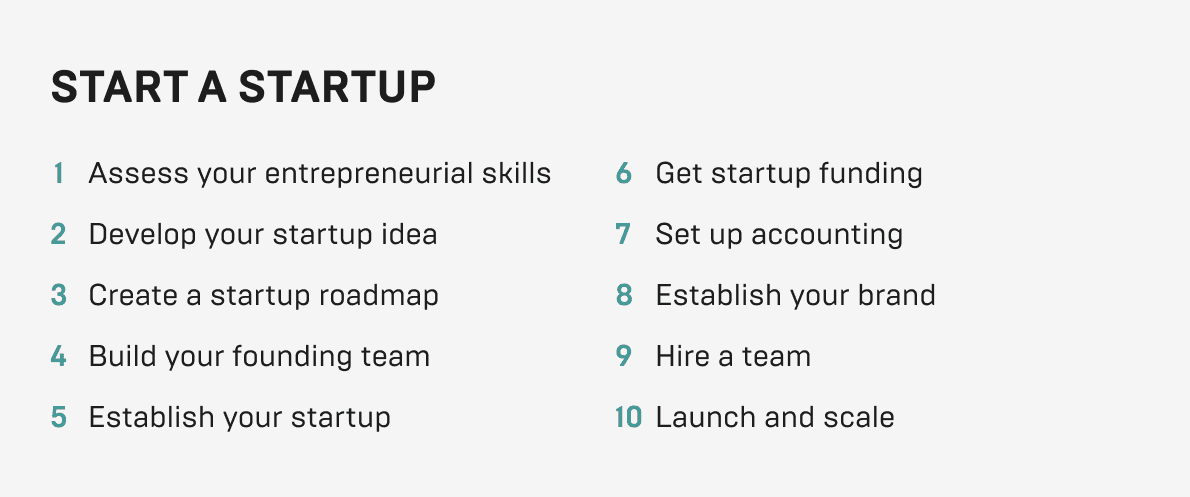 Define Your Vision and Set Clear Goals
If you have decided to make a startup, defining your vision and setting clear goals are crucial steps that will shape the direction of your business. They provide a solid foundation to build and execute your business plan effectively.
Know Your Purpose
Before diving into the details of your business idea, take the time to understand your "why." Clarify the purpose behind launching your startup. Is it to address a specific need in the marketplace, or does it fulfill a personal passion or aspiration? Understanding your motivation and intent will help you shape your business's identity and value proposition.
If your "why" is rooted in meeting a marketplace need, the potential for growth and scalability is significantly higher. Your business will have a broader impact as it caters to a larger audience. Conversely, your business may have a specific niche or a limited scope if your "why" is more personal.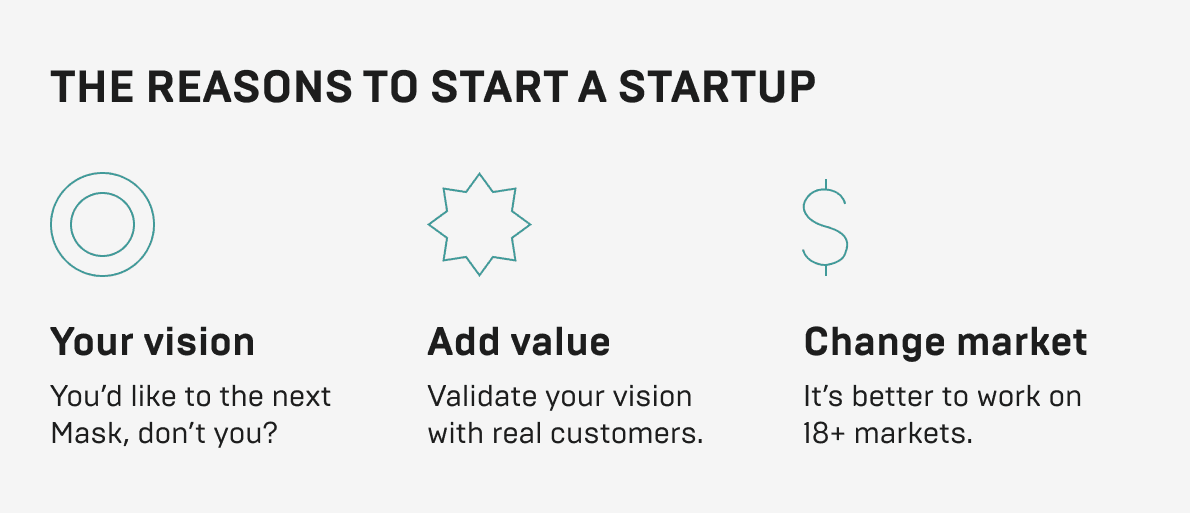 Set Clear Goals
Cloud computing offers elastic scalability, allowing organizations to access the right amount of IT resources precisely when and where they are needed.
Identify short-term goals. These are the immediate objectives you want to achieve, such as launching your website, retaining initial customers, or generating a certain number of sales within the first few months.
Set long-term goals. These are the more strategic objectives that define the success of your startup in the long run. Examples include reaching a specific revenue target, expanding into new markets, or gaining significant market share.
Therefore, knowing your purpose and having clear goals will guide your actions and decisions, positioning your startup for long-term success and sustainability.
Conduct Thorough Market Research
Complex market research regarding your industry and the demographics of your potential customers is a critical aspect of developing an appropriate business plan. This process involves various techniques, like organizing surveys, providing focus groups, and delving into SEO and public data.
The primary purpose of market research is to gain insights into your target customers and understand their needs, preferences, and behavioral patterns. Also, that will help you grasp the dynamics of a relevant industry and analyze your competitors. Numerous small business experts recommend collecting demographic data and performing competitive analysis to know better the opportunities and limitations within your market or markets.
To truly thrive, the most successful small businesses make a difference by offering excellent products or services. So, with a unique selling proposition, you can significantly impact your competitors and effectively communicate the distinct value you bring to company clients.
Develop Your Startup Idea
Considering your current knowledge and expertise is a great starting point when exploring ideas for the IT startup. But it is crucial to remember that you are not confined to your existing skill set. Many successful founders of a tech startup company are non-technical.
Typically, a startup idea originates from addressing a particular problem. That can be an issue you personally encounter or one you have noticed and believe will benefit from an innovative solution. By focusing your startup's product or service on this identified problem, you not only pave the way for developing your minimum viable product (MVP) but also increase the possibility of finding your target market early in the process.

Create Your Startup Roadmap
Whether opting for informal or formal business plans, putting your ideas into writing forces you to deeply analyze some elements, like the industry, market, and competitive positioning.
Each type of business plan is always associated with your venture's stage and has its own goals. For instance, in the initial phases of your business idea, you might find it beneficial to start with an informal business plan, like:
Business Model Canvas. Such a visualization tool outlines your venture's aspects, mainly clients, value proposition, infrastructure, revenue and cost models.
Lean Canvas. As an adaptation of the first option, the lean canvas focuses on your defined issue, its solution, clients, value proposition, key performance indicators (KPIs), and competitive advantage.
But since your business progresses and you begin seeking investments, you will likely need to present a formal business plan to potential investors. It must contain a more complex and detailed overview of your business, specific goals, marketing strategies, financial projections, and operational plans.
Build a Strong Team
A professional team with diverse skills, industry knowledge, and passion can effectively navigate challenges and drive your business toward its goals. But how to start a startup in terms of required employees? Let's find out.
Find Co-Founders
Co-founders are vital in filling critical gaps within the company, like providing leadership experience, industry expertise, and fundraising acumen. When seeking co-founders, focus on individuals who share your passion for the product or service, as this belief and commitment are crucial for the startup's success. Ensure clarity in roles, responsibilities, equity distribution, and other expectations through a well-drafted founders' agreement.
Hire an Operational Team
A successful startup team shows some crucial traits: product knowledge, industry-relevant skills, soft skills, and work experience. While experience is essential, passion and dedication to the product should also be noticed, as they contribute to the team's overall strength.
Look for team members who align with the startup's vision and are willing to go the extra mile to achieve its goals. In the initial stages, focus on hiring engineers and designers with expertise in providing software development services for startups and enthusiasm for the startup's mission to bring your desired product to life.
Choose Trusted Vendors
Running a business involves various aspects that may require external support. Choosing trusted third-party vendors is evident since they can access critical business data. Consider partnering with vendors in human resources (HR), business phone systems, credit card processing, and accounting. Ensure that vendors have a proven track record in your industry and can effectively assist with your business operations.
Thus, assembling a team that shares your vision and values contributes to a cohesive and motivated environment fueling the growth and prosperity of your startup.
Establish Your Business Startup Formally
Formalizing your business startup helps ensure legal compliance and safeguard your venture's interests. This process involves registering with the government and IRS, purchasing an insurance policy, and obtaining the necessary licenses and permits.
Register with the Government and IRS
One of the initial steps in formalizing your startup is registering your business with the IRS and obtaining an Employer Identification Number (EIN). An EIN is a unique identifier the IRS uses to recognize your business for tax purposes. Several reasons to obtain an EIN:
EINs are required for specific business structures such as corporations, partnerships, and multi-member LLCs.
If your startup has any employees, you must obtain an EIN.
Most banks mandate an EIN to open a business bank account.
Applying for an EIN is a straightforward process that you can do for free on the IRS website or via mail, fax, or phone.
Purchase an Insurance Policy
The right insurance coverage is essential for your startup's protection against unforeseen risks and liabilities. While specific insurance requirements vary depending on your business type and location, certain types of insurance are commonly recommended for startups:
Worker's Compensation Insurance.

Required by some states if you have workers to cover medical expenses and lost wages due to work-related injuries or illnesses.

General Liability Insurance.

Protects your business from third-party claims for bodily injury, property damage, and advertising injuries.

Professional Liability Insurance.

Also known as Errors and Omissions (E&O) insurance, it covers claims of negligence, errors, or omissions in providing professional services.

Property Insurance.

Covers damages to your business property, equipment, and inventory from events like fire, theft, or natural disasters.
Thus, research and assess your startup's specific insurance needs to find the right coverage to mitigate potential risks and ensure business continuity.
Get Licenses and Permits
You may need licenses and permits from local, state, and federal authorities to operate your startup. They depend on your industry, location, and the nature of your business operations.
Federal Permits and Licenses.

If your business falls under federal regulation, such as agriculture, aviation, or broadcasting, you must obtain the proper

permits

from the relevant federal agency.

State Permits and Licenses.

Most businesses require state-level

permits

and licenses to operate legally. The types of permits vary by state and industry.

Local Permits and Licenses.

Your startup may need local licenses or

permits

from your city, town, or county to comply with specific zoning, health, or safety regulations.
Consult local and state authorities to know the licenses and permits your startup requires, ensuring full compliance with all applicable regulations.
Create a Minimum Viable Product (MVP)
Creating an MVP is a critical milestone in understanding how to start a startup appropriately. After extensive research, market understanding, customer profiling, and determining the core features of your product, you can now capitalize on this knowledge to build your MVP.
The MVP serves as a prototype of your product, delivering its basic functionality. It allows you to put your concept to the test, gather valuable feedback from potential users, and make improvements as you progress. Thus, developing an MVP is futile without a well-defined set of core features, as it will deliver no true value or provide no accurate cost estimation.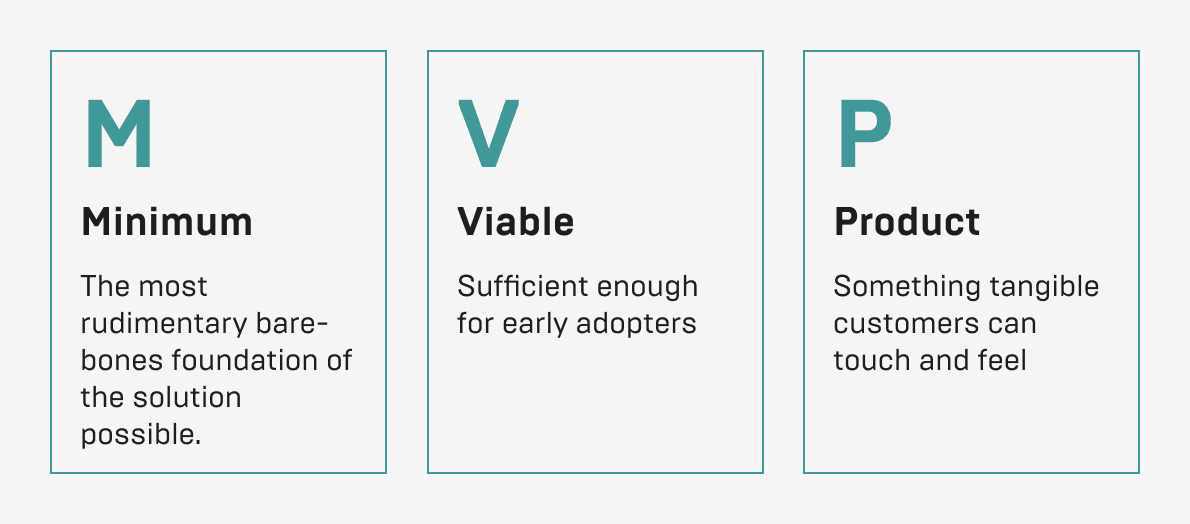 Secure Sufficient Funding
Building an MVP also plays a pivotal role in securing sufficient funding for your startup venture. Investors are more likely to support a business with a tangible product to showcase and validate its potential in the market. By offering potential users a chance to use and review the product, you can demonstrate its value and gain more traction.
A well-executed MVP serves as a proof of concept, promoting confidence in investors that your startup has a viable and scalable idea. As you fine-tune your product based on user feedback, you increase the chances of attracting funding, enabling you to take the next crucial steps in growing your successful business. So, ensure that your MVP is compelling, efficient, and capable of capturing the interest of both users and potential investors.
Set Up Accounting for Your Business
Business accounting is an essential and obligatory aspect of creating a startup. Through accounting, you can deal with the following:
Financial Performance.

It enables you to understand how your

business startup

performs financially, giving insights into revenues, expenses, and profitability.

Benchmarks and Goals.

Accounting allows tracking essential benchmarks and

goals

, helping you monitor progress and make informed decisions.

Valuation of Your Startup.

By maintaining proper accounting records, you can determine the value of your startup, which is crucial for many purposes, such as seeking investors or planning for

growth

.
Besides, a robust accounting system is necessary for handling various financial aspects, including payment processing, payroll management, and overall financial organization.
Now, you have several options for managing your business accounting. These include hiring in-house accountants or bookkeepers, utilizing payroll services, or employing small business accounting software. Regardless of your chosen approach, a solid accounting system is a must-have to keep your startup's finances in order and ensure its long-term success.
Learn About Your Tax Liability
Business taxes differ significantly from employee taxes, and one of the key distinctions is the frequency of tax filings. Small businesses file taxes quarterly, not annually. Thus, business owners must remit payments to the IRS every three months. Adjusting to this schedule may require ensuring that sufficient cash is on hand to meet such periodic tax obligations.
For businesses with employees, it is evident that employee taxes are paid to the government by the employer. For example, employees may see deductions on their pay stubs for various taxes, like income tax and social security contributions. But employers must withhold these taxes from employees' paychecks and then send them to the IRS on their behalf.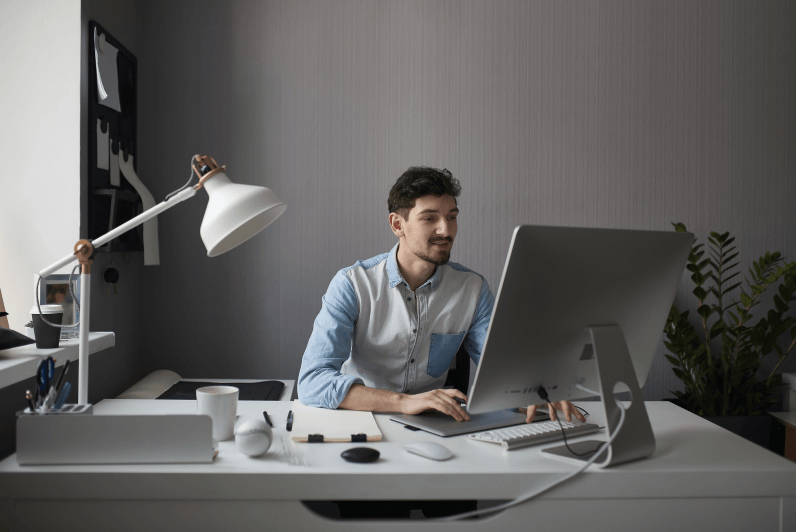 Establish Your Brand
Successful startups proactively establish their brand identity, building awareness and recognition among the target audience. Thus, by strategically crafting your brand image, you can effectively connect with clients, foster trust, and occupy a distinct position in the market.
Visual identity
A well-designed logo visually represents your startup, allowing customers to identify and remember your brand easily. It helps create a lasting impression and builds trust with potential clients. Utilize logo maker tools or seek professional design services to create a logo that aligns with your startup's values and resonates with your target audience.
Develop a Business Website
Create a business website that showcases your product or service, communicates your brand story, and engages visitors effectively. Choose user-friendly builders, enabling you to develop a functional and visually appealing website without technical expertise. Incorporate a search engine optimization (SEO) strategy to improve your website's visibility in search engine results and drive organic traffic to your brand.
Establish a Social Media Presence
Identify the platforms that align with your audience and product/service nature. Engage in authentic interactions, share valuable content, and participate in discussions to grow your social media presence organically. Leverage the power of platforms like Facebook, Instagram, LinkedIn, and Twitter, tailoring your content to resonate with your audience.
You can build a strong foundation for your success by proactively establishing your brand identity through a memorable logo, a compelling website, and social media. These efforts will attract clients and create a loyal following, setting the stage for sustainable growth.
Develop a Marketing Plan
A well-prepared marketing plan helps establish your online presence and drives tangible results regarding brand visibility, customer engagement, and revenue growth.
Digital Marketing Activities
Website and Blogging.

Use a well-designed website and maintain an active blog to showcase your product and generate market interest. Blogging, as part of your

content marketing

, allows you to share valuable information about your offerings and provides a platform to receive feedback from potential customers and early adopters.

Social Media Marketing.

Create a strong presence on the platforms mentioned above and use engaging content to attract loyal followers and potential clients.

Email Marketing.

Create a compelling lead magnet to encourage people to sign up for your mailing list. That will help you build a valuable email subscriber base. Utilize email marketing campaigns and direct mail strategies to keep your audience informed about your latest offerings and promotions.

Paid Advertising.

Invest in paid advertising to expand your startup's reach. Consider running targeted ads on popular platforms such as Facebook, Google, and other social media channels to reach your ideal audience effectively. Additionally, consider purchasing sponsored posts on influential blogs with a large and relevant following.
By implementing these strategies, your startup can gain traction in the market and attract new customers. After all, continuous engagement with your audience and staying responsive to their feedback will contribute to the long-term success of your business.
Key Components of A Proper Marketing Plan
To create a successful marketing plan, focus on the following key elements: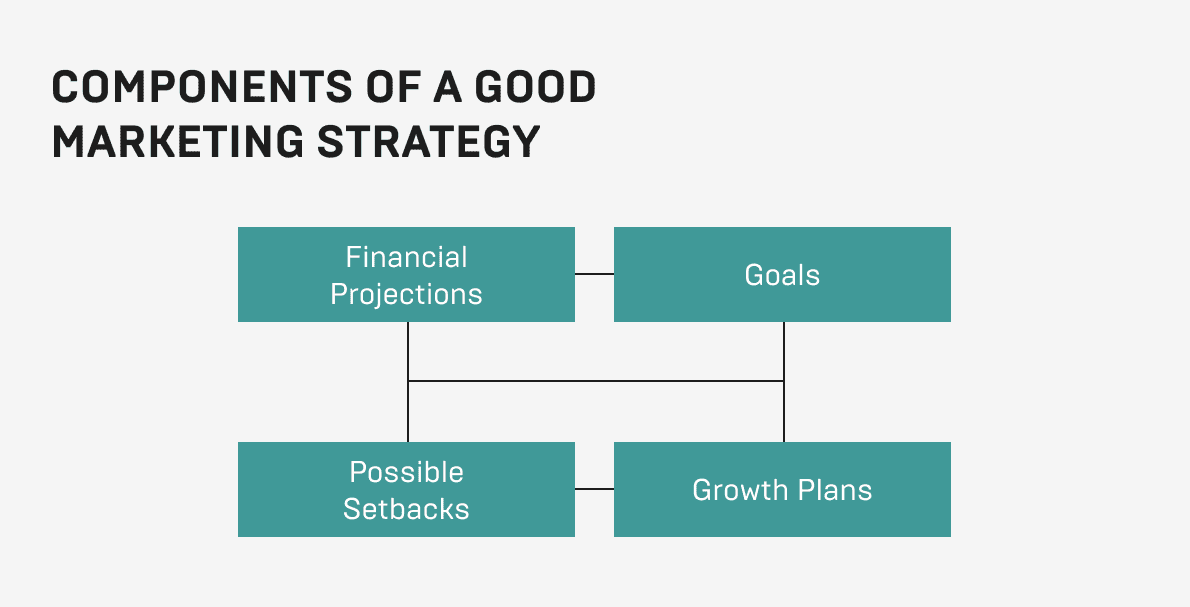 Financial Projections.

Evaluate the expected return on investment (ROI) of each marketing

campaign

. Consider the revenue you hope to generate, ensuring it covers the

campaign

cost and allows for future marketing initiatives.

Goals.

Set specific and measurable marketing goals, like the number of conversions from blog posts or target guest spots on podcasts. Define clear benchmarks to track your marketing performance.

Possible Setbacks.

Anticipate challenges and setbacks, particularly for expensive ventures. Have contingency plans to minimize risks and recover from unsuccessful campaigns.

Growth Plans.

Plan for the future

growth

of your startup's marketing efforts. As your earnings increase, consider expanding your marketing team to leverage

content marketing

, social media, and other strategies to achieve tremendous success.
Ultimately, you should continuously analyze and adapt your marketing efforts based on data and insights to optimize your results.
Implement a Scalable Business Model
When you start a startup company, establishing a scalable business model is among the most crucial factors to consider. Scalability refers to the ability of your business to handle an increasing workload and expand without compromising its efficiency or performance. Thus, a scalable business model allows you to accommodate rapid growth and tap into new markets, ensuring long-term profitability.
To achieve scalability, you should:
Evaluate your current business processes, systems, and infrastructure. Identify potential bottlenecks that hinder growth and develop strategies to overcome them.
Embrace technology and automation to streamline operations, reduce manual labor, and increase productivity.
Anticipate changes in market demands, client preferences, and industry trends.
Stay adaptable to evolving circumstances and be ready to pivot your strategies if needed.
Invest in hiring and retaining top talent. Surround yourself with a skilled and dedicated team capable of taking your startup to new heights.
Emphasize customer satisfaction and retention. Loyal customers contribute to recurring revenue and serve as brand advocates, attracting new customers.
Consider potential partnerships and collaborations. Strategic alliances can provide access to additional resources and expertise that foster growth.
Constantly monitor and analyze KPIs to track your progress. Data-driven insights will help you make informed decisions and fine-tune your strategies as you scale.
From the beginning, using a scalable business model can make your startup stay ahead of competitors. By focusing on efficiency, adaptability, client satisfaction, and strategic planning, your business will thrive in an ever-changing and competitive market landscape.
Launch and Scale Your Startup
The launch process can vary depending on your product type, but a successful one requires careful planning and execution.
For example, generating hype and anticipation is crucial for startups offering a physical product before the launch. Consider sending out small batches of your product to bloggers and other influencers in your industry for potential endorsements. Their positive reviews can help create buzz and build credibility.
But if your startup offers information or online services, a gradual rollout strategy may be quite different. Introduce your product to customers individually, allowing for early feedback and troubleshooting before a full-scale launch.
At the same time, you should remember that the journey continues after the launch or the first sale. To achieve sustainable growth and success, you need to focus on some key areas:
Execute your business plan diligently and remain adaptable to changes in the market.
Look for opportunities to expand your market presence by targeting new regions and demographics that align with your product or service.
Innovation and Improvement
Continuously innovate and improve your offerings to stay competitive and meet the evolving needs of your customers.
Customer-Centric Approach  
Develop your business with a customer-focused mindset. Listen to feedback, address pain points, and deliver exceptional customer experiences.
Optimize your business model and internal processes to enhance efficiency and reduce overhead costs.
Establish and grow your entrepreneurial network, as partnerships and collaborations can open up new avenues for growth.
As your startup expands, recruit skilled professionals who share your vision and can contribute to the company's success.
Foster a positive and supportive company culture that promotes teamwork, creativity, and employee satisfaction.
Thus, launching a startup is just the beginning of an exciting journey filled with challenges and opportunities. But with dedication and a proactive mindset, you can navigate the path to success and witness your startup flourish in the market.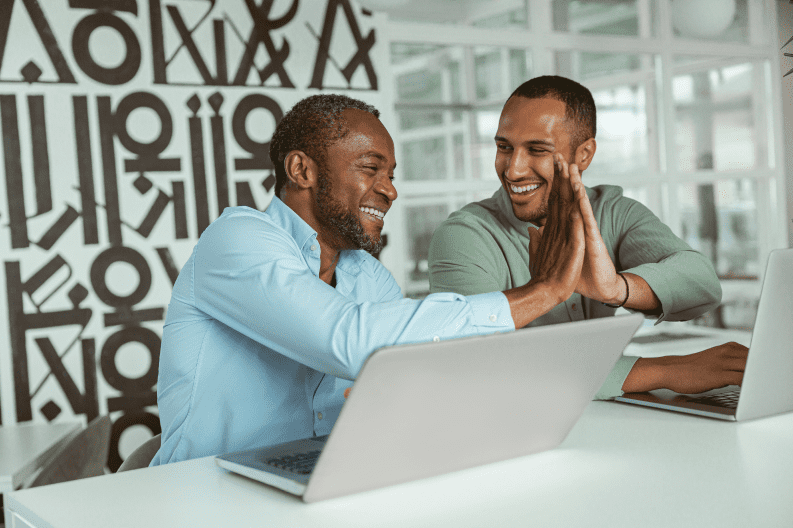 Build Trust and Network
Building trust and establishing a strong network is vital for aspiring entrepreneurs looking to start up an IT company. After all, trust is the foundation of any business relationship, while networking opens doors to valuable resources and opportunities for growth.
Gain Customer Consent for Building Trust Further
As you work on promoting your brand, seek permission from your current and potential customers to communicate with them effectively. Utilize opt-in forms to secure consent, mainly for email communications. These forms are commonly used to request permission to send newsletters, marketing materials, product updates, etc. By allowing customers to opt in transparently, you build trust and credibility.
Besides, opt-in forms are legally required to comply with regulations like the CAN-SPAM Act of 2003 set by the Federal Trade Commission. So, by obtaining explicit consent, you show respect for your customer's preferences and create a positive first impression that can lead to long-term loyalty.
Leverage the Power of Networking
Networking brings access to valuable connections, knowledge, and resources. To develop an impactful networking strategy, aim to connect with various individuals who can contribute to your startup's success:
Entrepreneurs or Business Founders.

Engage with entrepreneurs and founders who have faced similar challenges and can offer valuable insights and support.

Advisors and Mentors.

Seek guidance from experienced advisors or mentors who can provide advice and help you navigate the entrepreneurial journey.

Future Clients.

Interact with potential customers to understand their needs better, receive feedback, and build lasting relationships.

Investors.

Engage with investors, such as venture capitalists or

angel investors

, who may be interested in funding your startup.

Representatives of Local Startup Communities.

Get involved in local startup events, meetups, and conferences to connect with other professionals in your area.

Online Communities.

Participate in online forums, social media groups, and platforms dedicated to startups and entrepreneurship.
Finally, take advantage of different networking resources, including startup incubators, networking events, and local entrepreneur communities. Engaging in networking expands your professional circle and increases your startup's visibility in the market.
Know Your Customers
Understanding your customers helps build a startup effectively. Thus, before diving into any venture, take the time to research and analyze your target audience thoroughly. Identifying their needs, preferences, pain points, and behaviors will provide invaluable insights that can appropriately shape your product or service to meet their demands.
For instance, you may create detailed customer personas, fictional representations of your ideal clients based on accurate data and market research. That will help you empathize with your potential customers and tailor your offerings to their expectations.
Engaging directly with your audience is another essential aspect of knowing your customers. Here, conducting surveys and encouraging open communication on social media to gather feedback and understand their evolving requirements are practical steps. Besides, keeping a close eye on customer analytics and tracking user interactions with your actual product or service enables you to make data-driven decisions and improve the customer experience.
After all, knowing your clients ensures that your startup provides genuine value, strengthens customer loyalty, and fosters referrals – three critical factors that can drive the growth and success of your entrepreneurial journey.
Conclusion
To conclude, building a successful startup requires careful planning, determination, and a proper strategy. In this guide, we have explored essential tips for aspiring entrepreneurs regarding how to create a startup and pave the way for its growth. From defining a clear vision and setting achievable goals to establishing a brand, developing a marketing plan, and building a strong team, each step is pivotal in shaping the trajectory of your venture.
But when embarking on your journey, remember that it goes beyond just answering, "How much does it cost to start up a company?" It would be best to understand what impact you can create and what value you will deliver to your customers. Besides, be prepared to face challenges, adapt to changing market dynamics, and continuously learn and improve.
If you are looking for an experienced software development partner to bring your ideas to life, look no further than Reenbit. With a track record of supporting many startups, Reenbit provides the expertise and technical knowledge to turn your vision into reality.
Contact us today to take the first step toward building a thriving startup.
FAQ
What are the types of startups?
Startups may be grouped into the following six categories.
Scalable (aim for rapid growth and expansion);
Large company startups (built within established companies to foster innovation);
Social (their focus is on creating positive impacts on society);
Buyable (developed for acquiring);
Lifestyle (they revolve around the founder's passions and interests);
Small business startups (established to fulfill the founders' specific needs).
What is the difference between startups and small businesses?
The primary distinction between a startup and a small business lies in their long-term goals. Typically, small businesses aim for steady and sustained growth, while startups prioritize rapid revenue generation and expansion, considering their temporary nature.
What mistakes should I avoid when starting a startup?
When starting a startup, avoid these two most common mistakes:
Overlooking market research and not validating your business idea before launching.
Neglecting to build a strong, cohesive team that complements your skills and shares your vision.
How can I start my own business with no money?
In this case, consider focusing on service-based businesses that require minimal upfront investment. Moreover, you should leverage existing resources, such as using free online platforms for marketing and networking, and gradually reinvest profits to grow your business.
How can I build a strong team for my startup?
To build a strong team for your startup, look for individuals who share your passion for the startup's mission, possess diverse skills, and complement each other's strengths to create a cohesive and motivated team. At the same time, clearly defining roles and responsibilities to ensure each team member understands their contribution is also crucial.
What is a minimum viable product (MVP), and why is it important for startups?
A minimum viable product (MVP) is a basic version of a product that contains only its key features to meet early client needs. An MVP is important for startups since it allows them to validate a business idea, gather user feedback, and test the market with minimal resources and time investment. By launching it, startups can iterate and improve their product based on real user insights, leading to a more prosperous and customer-focused final product.
How can I secure funding for my startup? 
To secure funding for your startup, you should prepare a compelling business plan outlining your product, target market, revenue model, and growth strategy. Besides, exploring various funding options, like angel investors, venture capital, crowdfunding, or government grants, is vital. But remember to pitch your startup to potential investors or funding sources with a clear and convincing value proposition.